COMPETITION HORSES
COMPETITION HORSES
First-Step Horses won the 2016 title of the best owner in classic SHF cycle for 4-year old and 6-year old !
2017 WORLD CHAMPIONSHIPS IN ERMELO
F-S VALENTIN, 8TH BEST 5 YEAR-OLD
AND BARROSO, 17TH BEST 7 YEAR-OLD
• Barroso, 2010
→ Bordeaux x Saros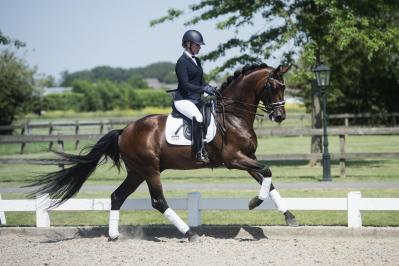 ► Vice-Champion of France 2017, 7 year old
► Vice-champion of Belgium 2017, 7 year-old
► Selected for the 2017 7-year old World Championship
at Ermelo in early August !
► In 2016, 7 wins including the final in 6-year old
at Gd Nat. from Jardy (F)
and the final in 6-year old at the GN de Rosières en Salines (F)
► Qualification for the World Championships 2016
at Ermelo at the end of July.
► 8th of the small final of the World Championship
for 6-year old at Ermelo 2016
► Champion of France and Belgian Champion, 6-year old 2016
► Barroso ranks 2nd in ISHRA Hengstencompetitie Dressage 2016